Discover the PanzerGlass TM innovations for iPhone 15
With the introduction of the new iPhone 15, PanzerGlassTM has traditionally launched a number of new products that feature uncompromising durability and exciting technologies. Which are the most important innovations that have been introduced and what makes them special?
Even more durable protective glass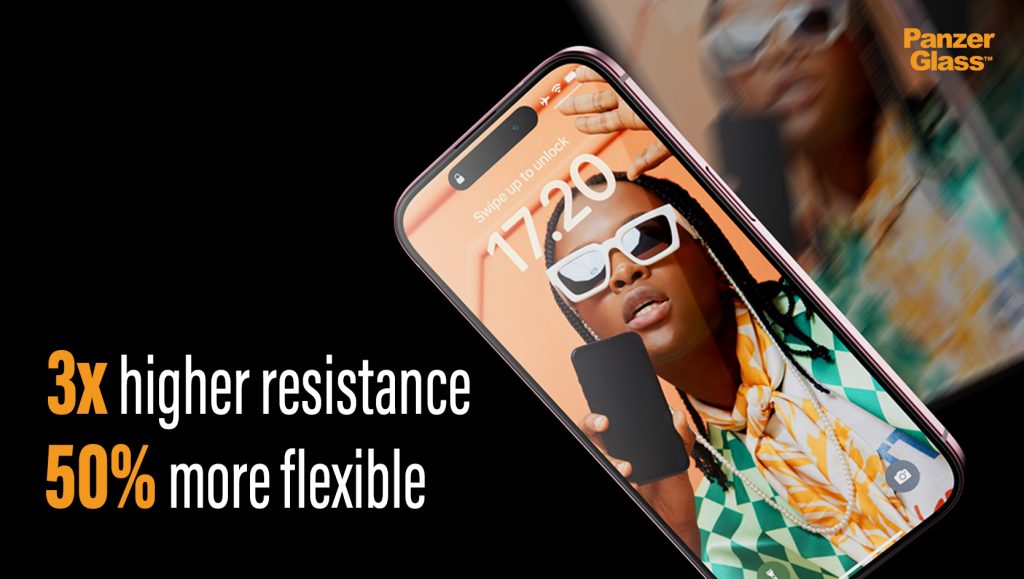 PanzerGlassTM developers have found in their research that scratch resistance is extremely important to customers. So they tuned the new iPhone 15 glass to be up to 3-times more scratch-resistant than the iPhone 14. They can withstand up to 10,000 steel wave scratches, so you can carry your smartphone in your pocket with keys, coins or other sharp-edged items without any worries.
In addition, the new iPhone 15 glasses are up to 50% more durable than their predecessors. Thanks to this, they can even better withstand strong shocks or falls to the ground and reliably protect the iPhone 15 display from breakage or scratches.
4 unique layers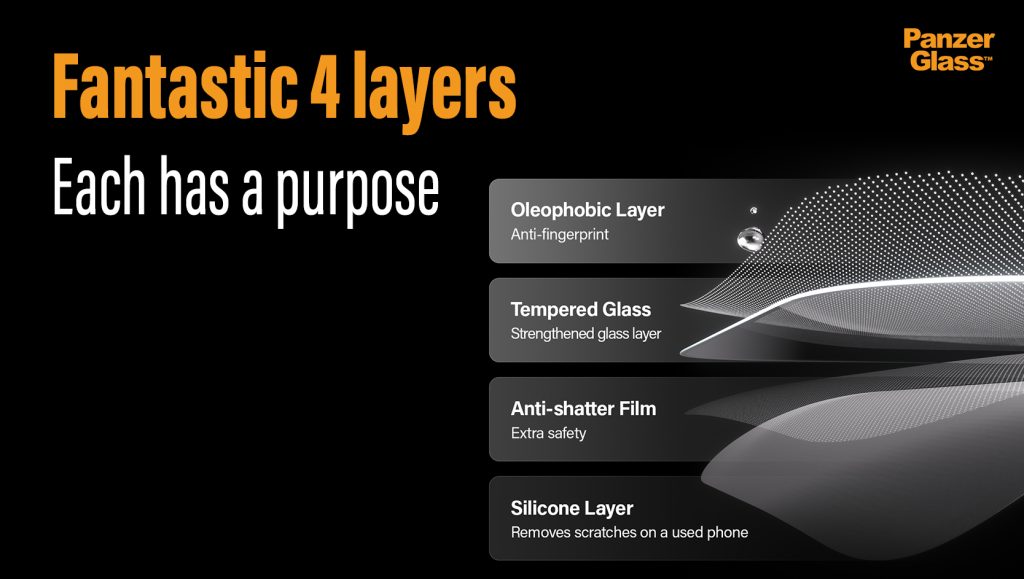 The latest PanzerGlassTM safety glasses consist of 4 basic layers. Oleophobic on the surface, which eliminates fingerprints and smudges, the tempered glass itself, a safety layer that prevents the glass from shattering into fine shards during very strong impacts and a silicone layer that smoothes scratches on the display of the already used smartphone.
Traditionally, 3 strength classes are available. The base is GOLD tempered glass, which is tempered in a furnace at a temperature of 500 °C for 5 hours and then polished once. PLATINUM glasses go through this process twice. The highlight of the offer are DIAMOND glasses, which are tempered and polished up to 3-times, giving them exceptional durability.
Anti-blue light and reflections
PanzerGlassTM has so far offered separately a glass with an anti-reflective layer against the reflection of the sun's rays and separately an anti-blue light glass with a blue light filter. However, in the latest generation of protective glass for iPhone 15, it has combined both of these technologies into a single glass, creating the ultimate 2-in-1 eye protection.
Protective glass with anti-blue light technology and anti-glare coating eliminates screen glare during the day, reducing eye strain and improving screen readability. At night, anti-blue light technology reduces excessive eye fatigue and dryness by filtering out harmful blue light.
Practical tip: If you want PanzerGlassTM to protect your privacy, Side-View Privacy Glass, which prevents you from seeing data on the screen when viewed from the side, is still available.
Cases with D3O BIO material
The ClearCase and HardCase protective cases have also been improved and now contain a special layer made of D3O BIO material. It is made from corn starch and is currently the most advanced natural protective material in the world.
The D3O material contains free intelligent molecules that instantly bond together on impact to effectively absorb energy, then dissipate it and return to their elastic position. As a result, the ClearCase and HardCase cover can protect iPhone 15 even from falls from great heights and meets the most strict MIL-STD-810H military-grade standards.
Emphasis on ecology
The HardCase is made from 100% recycled polycarbonate, while the ClearCase back is made from durable tempered glass. The cases are equipped with yellowing protection and their edges are formed by a flexible anti-slip TPU frame, which also contributes to effective shock absorption.
Remember: Both the ClearCase and HardCase for iPhone 15 are fully compatible with wireless charging, and even the HardCase is available in a MagSafe-enabled version.
New protective lens cover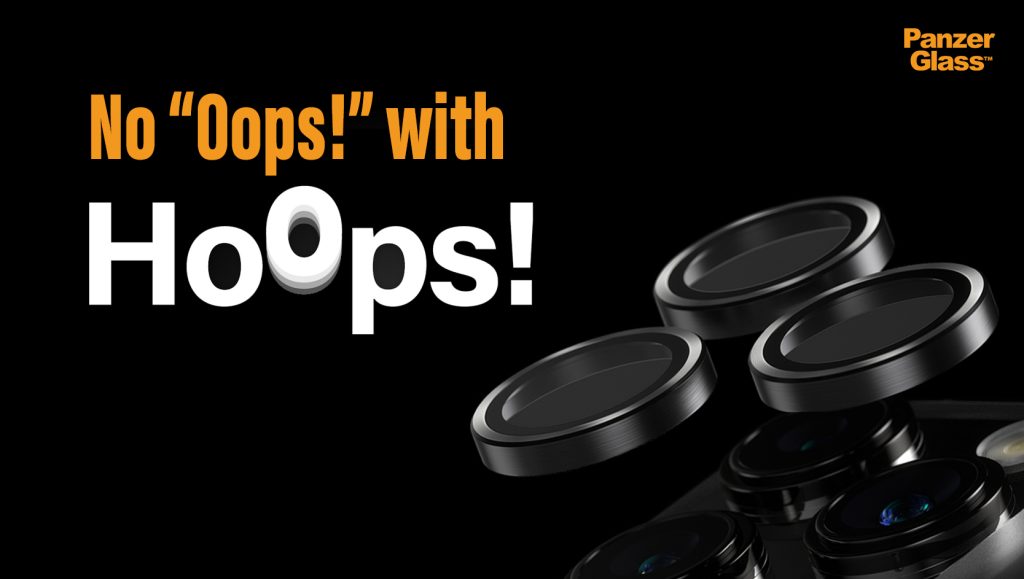 A brand new product has been added to the PanzerGlassTM product portfolio for the iPhone 15, which is the special Hoops lens cover. This is made up of small glass rings with sleek black aluminium edges that stick directly onto the individual camera lenses. They perfectly protect them from scratches or shocks, but at the same time they do not distort the quality of photos and do not affect the built-in functions of the camera.
The Hoops protective rings come with a special applicator that makes sticking them on extremely easy. However, in addition to the Hoops protective rings, the PicturePerfect lens cover with its elegant design and excellent durability is still available.
All new PanzerGlassTM products for iPhone 15, which are now packaged in even more environmentally friendly FSC-certified packaging, can be found in NAY stores across Slovakia, in branches of mobile operators or in the PanzerStore.sk e-shop.